Home
/
Folding Knee Walker Scooter
Folding Knee Walker Scooter
Because foot issues limit your ability to keep active, you'll need to use a knee walker on a daily basis. The knee scooter has a curved knee pad that provides a secure platform for you to rest your knee while going about your daily activities.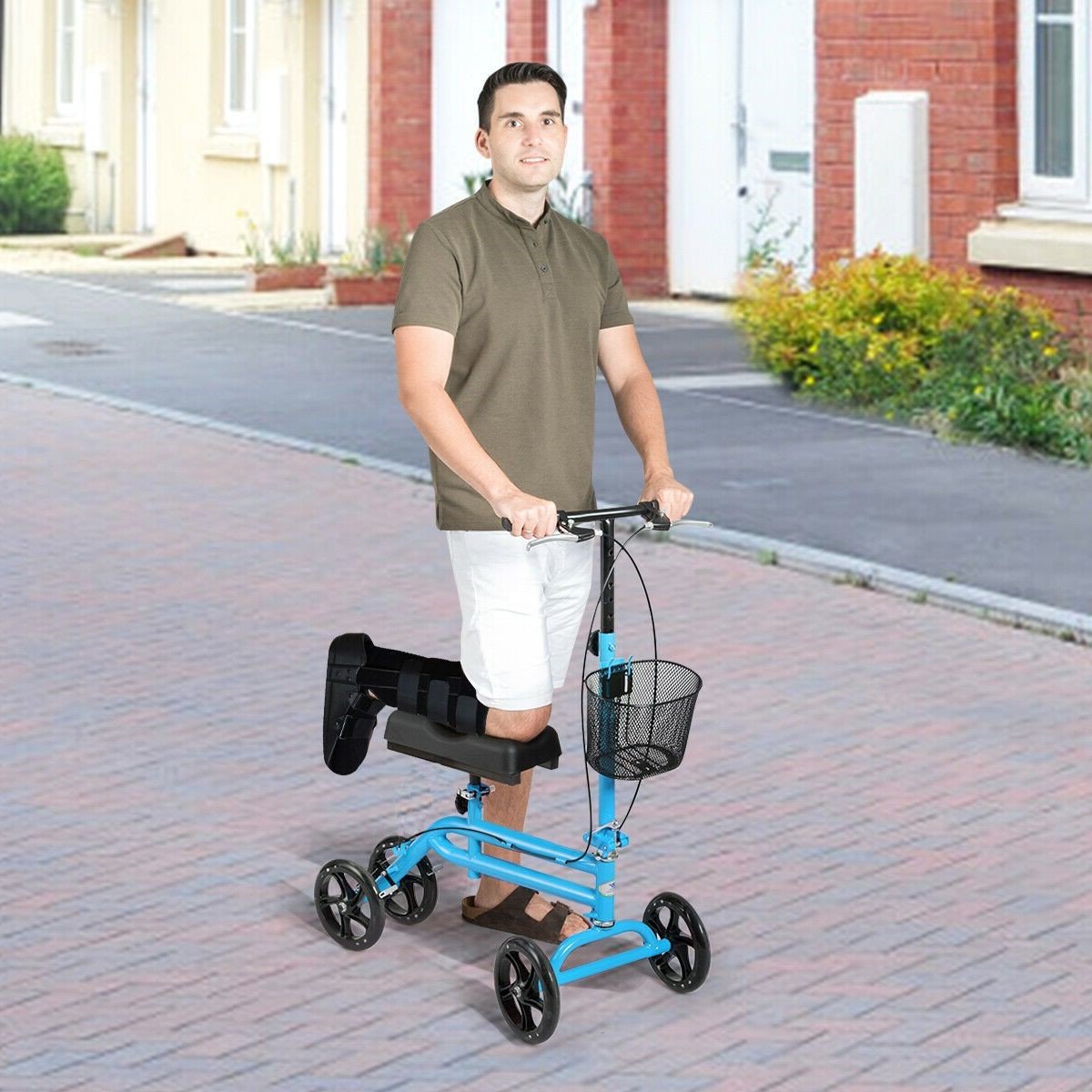 The four wide wheels on the all-terrain knee scooter allow users to comfortably travel both indoors and outside. Furthermore, the medical knee scooter provides superb balance and support to protect the user's already injured foot from further injury.
On steep paths, the knee walker also includes a well-functioning brake system that prevents the user from going too fast. Invest in our high-quality, durable knee scooter to keep your injured foot on the road to recovery.
FEATURES:
ADJUSTABLE: The handlebar and knee pad of the knee walker scooter are both fully adjustable. This enables you to customize the height of the medial knee scooter to your needs.
SAFETY: The four large wheels on the medical knee scooter are meant to keep you balanced while you ride. In fact, our knee walker walks with its feet near to the ground for increased stability and confidence.
SPECIFICATIONS:
Color: Navy

Material: Iron Pipe, Aluminum Alloy, PU

Overall Dimension:32.5 "×16.5"×32.5-41.5" (L×W×H)

Cushion Size: 13.5"X6.5" (L×W)

Basket Size: 9"×7"×6.5" (L×W×H)

Adjustable Range of Cushion:20"-25.5"(H)

Adjustable Range of Handle: 32.5"-41.5"(H)

Wheel Diameter:7.5"

Net Weight: 23lbs

Weight Capacity: 350 lbs
SHIPPING INFORMATION:
Within two days of placing your order, your product will be packaged and dispatched. To ensure quick delivery, all products are sent from US warehouses! It may take up to ten days for your order to arrive. Please allow an additional 5 days if you are located outside of the United States. As soon as it is shipped out, you will receive tracking information via email.
OUR GUARANTEE:
We think that our products can make a difference in people's lives, and we stand behind them completely. All of our items come with a 30-day money-back guarantee. We will make sure you are completely satisfied with your purchase if you do not have a positive experience. Our items also come with a one-year free breakdown warranty.